Local bicyclist Jay Albert, 52, died on July 1, 2012 after 22-year-old drunk driver Tara Sylvester's car crushed him a day earlier, in front of 226 Main Street, East Windsor.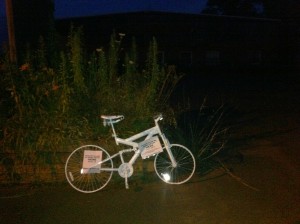 When Tony Cherolis and I rode our bicycles up there Tuesday, July 10, to place a ghost bike in Jay Albert's honor, we found no sign of an accident – no sand on the ground from spilled fluids, no skid marks, no broken pieces of taillight.
The accident that sent Albert to intensive care and then to an early grave happened at 11:18 on a Saturday night. The neighbors hadn't settled into Saturday Night Live yet. The road hadn't assumed a 4 a.m. stillness.
Tara Sylvester had a few drinks, left whatever party or bar, and zoomed northbound on Main Street. The 12-foot wide striped lanes, designed for 50-mile an hour travel, don't care about the speed. The asphalt doesn't feel pain. The nearby warehouses don't understand death.
Albert did, but he pedaled southbound, and apparently was in the wrong lane. Who's to blame for his death? Police might have thought he was, because officers only charged Sylvester with DUI.
Sylvester has retained counsel from the powerhouse criminal firm Santos and Santos, PC. She comes from cash.  Her next court date in Enfield is July 16, 2012.  She was released from custody on $5,000 bond. A pittance, really. One wonders how she's handling Jay Albert's death by drunk driver.
For cyclists like myself who read the news and say "there but for the grace of God go I," the response is a ghost bike.  In the time it took Tony and I to unload the ghost bike off his trailer, and figure out which spot to place it, two bicyclists passed us by.
Neither had lights. Neither wore helmets. They are the invisible cyclists. The second rider stopped when I called "Hey!" He spoke Spanish. He could've been Mexican, or maybe Peruvian. He wasn't 5-5.
He had no lights, was wearing a dark shirt, and a toussle of jet black hair covered his head. He rode an old Diamond Back touring cycle, and traveled in the proper lane. His bike was somewhere between a Tour de France racer and the white skeletal representation of a bicycle we left at the spot where we surmised Albert died.
Hanging from the Latino biker's handlebars, a plastic bag sagged under the weight of the round tinfoil food container. I bet he was a dishwasher in a nearby restaurant, invisible to the diners at work, invisible to those same people on the road when they drive middle-class cars.
I asked him if he knew that a guy died here on a bicycle, thinking that he drives past this route regularly, he might have seen the actual spot. We like to have accuracy in placing ghost bikes. The Latino cyclist said no. He had no idea someone died on the road here.
He knew now, and perhaps would ride more defensively. As we parted ways, I wondered if I should have given him one of the two red taillights I wore. If Albert was riding the against the traffic, a red taillight wouldn't have helped him.
I didn't give up the taillight, and Tony and I huffed it home. I'd go broke if I tried to give every rider I saw who needed a taillight one. He said it was the longest he's ever pulled a trailer – 34 or so miles. The same 34 miles represents my longest ride this summer – sadly. I need to get out for more miles.
Tony has done a few centuries this summer already. He doesn't have a car. I'm jealous. But my work demands that I have a car. I hate it. I continue on doing it, though, because I have to. Maybe someday no car.
We split ways at Ann Street. I passed by the new police station and the renovated Isham Terry House. Now there were two heroes. Those sisters told the entire federal government and state government to stick their highway plans. They stopped the DOT and the Federal Highway Administration from razing an architectural gem.
Every day, a massive traffic jam arises because of the Isham-Terry curve on I-84 West, and the traffic crawls when the sun sets at rush hour. All because two women wouldn't budge.
If Hartford had 1,000 people with their guts on the same progressive position! If we had someone, anyone, who had their preservationist moxie today, we might have Fraser Place still.
I pedaled up Sergeant Street, through Sigourney Square Park, looking at the crushed metal benches, the graffiti on tables and the litter and crap, and was glad to pass so quickly through.
At the corner of Ashley and May, where the white picket fence ends and leaves a corner shortcut, a tall teenage boy and a short woman argued. A woman and a child sat on a tree stump in the tiny corner lot, mere feet away, watching.
"Hit me. Hit me. Come on, hit me," the boy shouted in the girl's face. "Hit me like you did before." He turned away, she swung. He grabbed her wrists. She tore away. He got in her face.
"Hit me. Hit me. Hit me." His chest bumped her chin, she walked backward his aggressive forward posture. "Hit me. Hit me. Go on, hit me," he taunted her. He wrestled her in a violent, herky-jerky dance.
I rolled my bike up to the corner, a safe enough distance away from the kid in case he had a gun. "Good evening," I said.
All four looked at me funny. It was 10:30 at night in the hood. I obviously was crazier than they were, and that demanded some level of respect. Having their attention, I opened up.
Hi, I'm an attorney and I'm dealing with the aftermath of a serial domestic violence abuser turned domestic murderer. He stabbed her 19 times. It's not a fun case. They paused to listen more. He held her wrist behind his back.
Silence reigned as I tried to grasp why this girl would sit there and take it. Women who suffer at the hands of a domestic abuser are more likely to be diagnosed with mental illness. I made small talk, tried to get names. The boy thought I was a cop. Weird white guy on a bike.
Listen, I said, I'm a neighbor, and I'd appreciate it if you didn't treat her like that around here. The other night, I wanted my wife to picnic with me in Sigourney Square Park. She said no, bad stuff happens here. I always thought Sigourney was a so-so park.
I wasn't sure what she meant until I saw him yelling. Why do humans suck so badly? I rode away, and listened, waiting for him to holler at her again. Who knows what happened next?