Gubernatorial wanna-be and likely war criminal Tom Foley has listed his yacht Odalisque for sale, as of January 8, 2013. Foley is asking $5.9 million for the 1973 Feadship, a Cadillac among yachts.
It seems highly unlikely Fole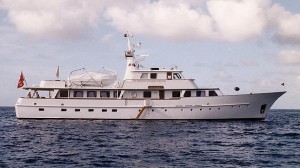 y, a 1-percenter, is in dire need of cash (or maybe he is looking to save up for his next stab at buying a title and elected office). More likely, he wants to upgrade his 40-year-old toy for something more techy and push-buttony.
Or maybe Foley is seeing global warming as a reality and he wants to dump Odalisque, a stinkpot that probably burns more than 40 gallons of diesel an hour. Or is Foley the romantic type wants his family to enjoy the luxury of a 120-foot sailboat? One doubts Foley is going to take the $5.9 million he gets and give it to Habitat for Humanity.
For the curious, the boat is docked in Fort Lauderdale right now. As has been discussed, it is flagged in the Marshall Islands, and so despite being in American waters, his crew is not subject to American labor laws. Registering the vessel offshore allows Foley, a Connecticut resident, to avoid paying personal property tax on Odalisque.