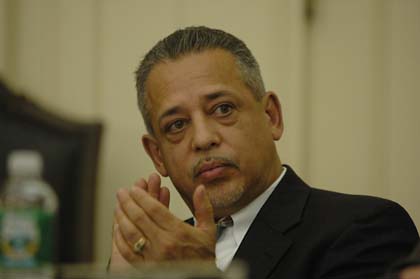 Below is this week's column. As so often happens, I have egg on my face. I was supporting Bob Killian. I wrote a column this week asking Mayor Pedro Segarra to drop out to help Killian and make the three-way a two-way race. Instead, Bob dropped out, because Pedro is the bigger problem.
I trust Bob's judgment. If he thinks Luke Bronin can do the job, I will abide.
As much as I disdain the systemic corruption of Democratic Town Committee machine, without Bob in the race, Luke represents the best chance to get rid of incumbent bumbler Pedro Segarra.
Bronin has showed himself a skillful debater, knowledgeable about issues, and most importantly, someone who is able to build bridges (a skill I completely lack, and have little interest in most times).
This, though, is one of those times to build a bridge, and unite behind someone who may be able to change this city's fortunes. Go Luke! And here is a well written piece of fish wrapping:
Dear Mayor Segarra –
We disagree on almost everything but two things: we agree first that the father-son tandem of Bill DiBella and Marc DiBella should not control the Mayor's office and second, only you can stop this.
We even disagree on how you can stop it. You might think you can stop it by winning the primary, but that is a long-shot. But I think you can stop the DiBellas by endorsing retired Probate Judge Bob Killian for mayor.
You are in the middle of the worst month of your administration, and this stretch will likely doom your re-election. Not even a visit to the White House on community policing will help stop your decline.
Your bad month began on June 24 when council president Shawn Wooden decided against re-election (more on that in a minute). Your bad month will end when the DiBella-controlled DTC endorses Luke Bronin for mayor.
Before you suffer this fatal blow at the convention July 27, make a sacrifice for the City and endorse Killian for Mayor so it is a two-way race in the primary. Bob can win, preventing the DiBellas from installing their candidate.
First, we thank Shawn Wooden for his service. Shawn sacrificed part of his life for the city. He gave up time with his family to go to infinite, endless meetings (whether or not we agree on how well he served – he gave of his time). His reason for spending more time with his family has some credibility.
Wooden also did not want to go down a loser and end his career. Bet neither Killian nor Bronin asked Wooden to run on their council slates. By jumping your ship, Wooden preserved future ambition (although his last two attempts at promotion – mayor and state senator – failed).
Wooden's grin framed your administration's moment in the sun – the ball park announcement. Wooden was a loyal soldier and rammed your stadium through. Now Wooden, sensing defeat, bailed.
Before we could digest Wooden's departure, the next day, June 25, Moody's downgraded Hartford's bond rating. Bronin wasted no time sending out a fundraising email before the clock struck 6, noting this was the third time in your mayoralty that the bond rating was lowered.
This past becomes difficult to hide, as your five years have placed Hartford in a terrible financial position. You could argue forces larger than the City have created this conundrum, but Mr. Mayor, you have not articulated arguments against these forces, and you have no record of fighting entrenched interests.
Bronin's attack on your lack of leadership in the recent wave of violence in Hartford further highlights your weaknesses. Your campaign manager saying he is tired of Bronin was a silly retort.
Next, Mr. Mayor, you lost the July 10 fundraising filing. Your Form 20s revealed a top-heavy burn rate. One wag confided they knew your campaign was flailing because Juan Figueroa has been nice lately.
Losing this round of money to Luke's cool hand of a half-million and Killian's $150,000 shows money is betting on other horses. You do not have the cash on hand to mount a ground game through the September primary.
More will abandon you Monday night after the Democratic Party nominates Bronin. Two years ago, John Kennelly swore to me you would turn this City around. Your re-election was certain, he said. In the July 22 Hartford Courant, Kennelly is all Bronin.
The DTC vote counts have long been settled. It seems unlikely the DTC will not endorse. Months ago, DTC cognoscenti had Bronin somewhere above 40 votes, you around 20, and Killian above a dozen (due solely to his late entry).
Shelly Sindland, your pr flack, will struggle to spin this devastating defeat. A sitting mayor failing to obtain his party's imprimatur is a death blow. Sindland, in response to my yes/no question "will Pedro petition his way onto the November ballot in case he loses the primary?", replied "He will win the primary."
I didn't ask that. The only way you can maintain relevance as a mayor through your last six months is to petition onto the November ballot. But the tea leaves read no win in the general or the primary. I will not underestimate you, but your money has dried up, and your momentum wanes.
You can flip the world upside-down: drop out of the race and throw your support behind Killian. At a recent debate, you said you would vote for Killian if you were not running. Killian said he would vote from Bronin, who in turn said he would vote for Joel Cruz.
Bronin's shrewdness grows, no doubt because he schools under the DiBellas. Bronin is recycling failed DiBella ideas, ones which he may not even realize have failed previously.
On May 14, 2015, Kerri Provost at RealHartford.org reported in "Conversations with the Candidates: Impressions":
"Bronin again raised the idea of removing Brainard Airport so that the area can be redeveloped. Killian spent a solid portion of his allotted time telling Bronin why his idea doesn't work, how there are State and Federal reasons for why it would not work, and how the small airport helps Hartford's economy."
Back on April 21, 2006, Oshrat Carmiel, a Hartford Courant reporter, wrote "MDC Floats Plan Down By the River," about Bill DiBella's idea of closing Brainard Airport for a 6.25 million square foot riverfront development.
Before he was convicted of securities fraud in federal court, Bill DiBella presented the Courant editorial board a 20-page glossy color booklet on closing Brainard Airport. Then-Mayor Eddie Perez was supportive, yet as Carmiel reported, ConnDOT hated it. DiBella won't give up.
The Courant editorial board this week hacked at state Democrats for not dissenting on convicted felon Joe Ganim's return to Bridgeport politics, yet the Courant editorial board has been silent about DiBella being MDC chair despite his federal conviction.
Bronin merits disdain for regurgitating this DiBella canard. The DiBellas may scheme that Bronin will call up his old boss Gov. Dannel Malloy, and change ConnDOT's mind. If this is one DiBella ruse we have figured out, how many more will come? Many, as we both know.
Luke, to win this race, has allied himself with people who have no business near Hartford's helm. We both know this. We both know you can help stop this. Fall on your sword. Be a hero.
Drop out of the race, Mr. Mayor. Throw your delegates to Bob Killian. Make this an exciting convention to remember. Go down fighting corruption.
Sincerely,
Ken Krayeske