---
Author Archives: 40yearplan
About 40yearplan Do Gov. Dannel Malloy and Dan Esty, his commissioner of the Department of Energy and Environmental Protection, have an energy plan for you! It's a cure for fossil fuels, but first, take plenty of natural gas. The two Dans have...
Read More » In December 2010, a Mercedes sedan, driven by a hedge fund manager, struck and seriously injured a bicyclist in Vail, Colorado, then drove off. The hit and run driver, Martin Erzinger, was soon arrested in a nearby parking lot, where...
Read More » As with all recent elections in America, the corporate capitalist domination of this system prevents any discussion of the Universal Declaration of Human Rights. In 1948, more than 50 countries agreed the tenets of the Universal Declaration of Human Rights...
Read More » Here are a three short lessons for haters and hypocrites who want to run for office. When you enter into the electoral politics, you will find bigotry, parochialism and disdain for "the other" your most potent weapons in the campaign...
Read More »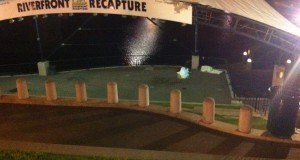 Does anyone else see a direct line between this dire poverty and the exorbitant pay of the executives in yesterday's post?
Read More » UPDATE at 1:39 pm: I emailed a copy of this column to Al Lara, the NU Spokesman shortly after publishing it. He sent me an email back stating "Ken's a listed columnist and I don't think the CAPITOL REPORT 2012®...
Read More » This hit print last week, but I failed to post it online until today. I wonder if Daniela Altimari of the Courant read it in print before writing this: For McMahon, Party's Not Part of Her Pitch. If politics is...
Read More » Mike Sanders, the transit administrator of the Connecticut Department of Transportation, emailed various community members last week promising to keep Flower Street open while the busway, aka CTfastrak, is built, and to look for long term solutions to keeping it...
Read More »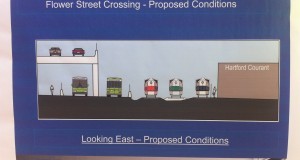 As we suggested might happen in last week's column, on Tuesday, August 21, 2012, at 12 noon, more than three dozen people gathered at the I-84 Viaduct on Flower Street to discuss the potential closure of Flower Street for CTfastrak,...
Read More » Oh, I got them busway blues Why are they closing Flower Street? Red Rock where am I gonna eat? And that Broad Street hurts my feet. Oh, I got them busway blues… If we want integrity in our transportation systems...
Read More »