By Ken Krayeske • 1:00 PM EST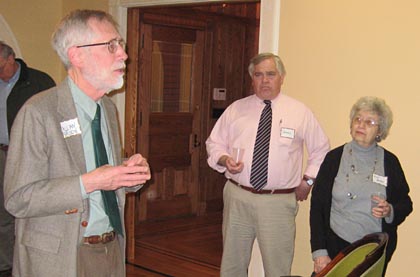 Allan Brison answers a question during a fundraiser at Charlie Pillsbury's house in New Haven on Thursday, October 22, 2009. More than 35 people showed up to talk about community issues like parking and schools. Allan is running for re-election as New Haven's only Green Party Alderman.
While likely 99 percent of the readership of this website cannot vote to re-elect New Haven Green Party Alderman Allan Brison on November 3, the world at large should know who Allan is and why he matters.
I have inclination to write about this because Green Party stalwart Charlie Pillsbury and his partner Allie Perry hosted a fundraiser at their newly refurbished home on Saint Ronan Street Thursday night, October 22.
While Charlie's house is technically not in Allan's district, some 35 people showed up to gnosh on munchies and let the mother's milk of politics flow: money. I wrote Allan a check for $50, because without Allan, my life would probably be very different.
In the summer of 2006, Allan Brison collected well more than 2,500 signatures to help put gubernatorial candidate Cliff Thornton on the ballot. Without Allan, Cliff doesn't make the ballot.